OSA membership offer
Special dues discount offer for OSI Members joining OSA!


Founded in 1916, The Optical Society (OSA) is the leading professional association in optics and photonics, home to accomplished science, engineering and business leaders from all over the world. Through world-renowned publications, meetings and membership programs, OSA provides quality information and inspiring interactions that power achievements in the science of light.

An OSA Membership provides exclusive access to cutting-edge information, an unparalleled professional network of 18,500 members and valuable resources to amplify your career. The wide range of benefits include: subscriptions to leading magazines, Optics & Photonics News and Physics Today; 50 downloads from Optics InfoBase, the most-cited digital library in the field and discounts on high-quality meetings with quality content and influential presenters. View a full list of benefits and membership information.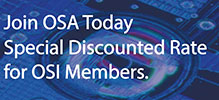 Join OSA as an Individual Member for only $50 USD!

To take advantage of this discounted membership offer, click here